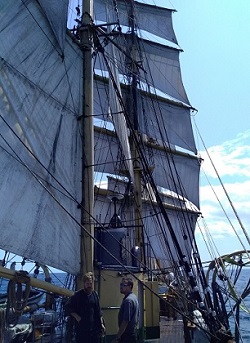 I have sailed some of the world's oceans, and my recent sail aboard the tall ship Picton Castle was as exhilarating as any ocean cruise. In one intense week, the Picton Castle crew taught me everything I needed to know to crew the ship. I didn't actually learn everything they were teaching me – it was just too much.
However, with another week on board, I could have practiced what I learned enough to be a valuable crew member.
Training is the primary purpose of the Picton Castle.
Proving our mettle aboard the tall ship
Some sailors, like me, want to learn the old ways of sailing or prove their mettle. Others are preparing for careers in the maritime industry. Even in an age of push-button controls on cargo ships, the maritime industry is seeking employees with varied experiences at sea. Candidates who can evaluate changing conditions and devise creative solutions are taking an important first step to a successful career.
Setting sail to Ontario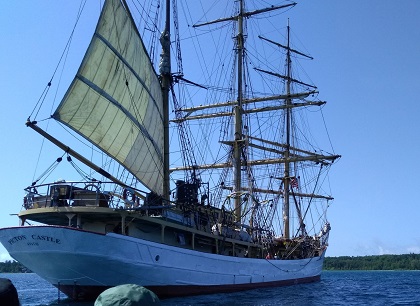 We entered Lake Huron on our way to Sarnia, Ontario. The wind was coming from our aft starboard quarter at about 20-25 knots. Sails were set beginning with the Main and Fore Topsails: Upper and Lower. All four jibs were flying. As the wind abated and Picton Castle slowed, the T'gallants were set and finally the Royals. The Spanker and Gaff Topsail were finally set, as well as the 3 staysails for a total of all 19 sails up. The crew was giddy as Picton Castle was again cruising at 6-7 knots. As the day wore on, the winds continued to moderate and our speed eventually fell to 3.5 knots. Sails were reduced, and we prepared to go back to engine power.
Celebrating with a shot of Smooth Sailing Rum
Although the winds weren't cooperating, the crew was still in good spirits. The Captain wanted to celebrate this great day and asked me to donate a couple of bottles of rum for the occasion. Since Picton Castle is a "dry" ship, the case of rum I brought on board was immediately confiscated and placed in the ship's safe. The Captain decided that after such a great day on the water, the crew deserved a special treat. What could be better than a shot of Smooth Sailing Rum after such a smooth sail?
Raising a toast to a memorable day
He poured out a jigger for all who were interested. As he poured, he spilled some on deck (for dead sailors) and poured a shot overboard (as an offering to Neptune). The crew loved Smooth Sailing Rum, and we toasted to a memorable day aboard the beautiful tall ship.