Chocolate Toffee Bliss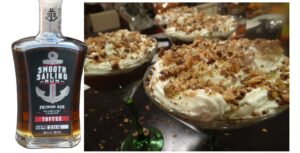 Serving: 4
| | | |
| --- | --- | --- |
| INGREDIENTS | QUANTITY | PROCEDURE |
| Chocolate Mousse | | |
| Semi-Sweet Chocolate Chips | 2 cups | Dark or Milk Chocolate |
| Smooth Sailing Rum | 1/3 cup | Vigorously steaming for a smooth chocolate sauce |
| Heavy Whipping Cream | 3 cups | |
| Powdered Sugar | ¼ cup | |
| | | |
| Brownie Base | | |
| Smooth Sailing Rum | ¼ cup as needed | Add enough so the brownie can become the base |
| Fudge Brownie | 1 box | Follow directions or your favorite recipe |
| | | |
| La Crème Topping | | |
| Heavy Whipping Cream | 3 cups | |
| Powdered Sugar | ¼ cup | |
| Smooth Sailing Rum | 2 teaspoons | |
| | | |
| Heath Candy Bar | 1 ½ king size | Crushed for topping |
Directions for the Brownie Base:
Cook the brownie according to the package and let rest until cooled down. Or make your favorite chocolate brownie batch. Crumble the brownie mix and drizzle enough Smooth Sailing Rum to make the brownie moist. Take the mixture and press it on the bottom of martini glasses and set aside. Depending on the thickness you desire for your base you can use 2 boxes instead for a thicker crust.
Directions for Chocolate Mousse:
Place chocolate chips in a food processor until the chips are ground finely. While the food processor in running add the vigorously steaming Smooth Sailing Rum and blend until it has a smooth consistency. Take the chocolate out of the processor into a large bowl and set aside.
While the chocolate is cooling add 3 cups of whipping cream & powdered sugar into a chilled kitchen aid mixer or use any handheld mixer with a large bowl and mix well until nice and stiff. Make sure your bowl and mixer are ice cold. You can put them in the freezer for 30 minutes before making the cream.

Take about 1/3 of cream and fold lightly into melted chocolate mixture making sure you are mixing lightly to keep its form. Then fold the rest of the cream into the chocolate. Refrigerate covered until the rest is ready
Directions for La Crème topping:
In a chilled bowl with a hand held mixer or kitchen aid pour in 3 cups of cream and powdered sugar. Mix well until the cream is soft peak. Then add the Smooth Sailing Rum and mix until stiff peaks. Set aside.
Assembly for the Chocolate Toffee Bliss:
Take pan with the brownie crust and spread the Chocolate Mousse over brownies
Take the bowl with the La Crème topping and spread over the chocolate mousse.
Sprinkle the Smooth Sailing Bar pieces over the La Cream.
Refrigerate several hours or for best results or overnight.
Recipe created by: Chef Ace Champion exclusively for Smooth Sailing Rum